GOD'S NEED & GOD'S GOAL—2016 WINTER READING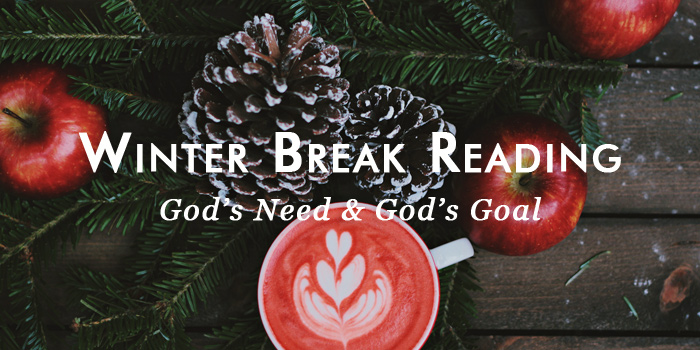 A certain man was making a great dinner and invited many; and he sent his slave at the dinner hour to say to those who had been invited, Come, for all things are now ready. –Luke 14:16-17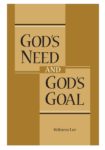 This winter break Christian Students on Campus will be reading through God's Need and God's Goal by Witness Lee.
As shocking as it may sound, the Bible reveals that God has a need. This need is in relation to His purpose, not His existence. God doesn't need man to exist, but He has an eternal purpose based on His heart's desire and that desire is focused on man. God is a living person, and as such derives pleasure from things. The Bible calls this God's good pleasure, that which makes God happy (Eph 1:5, 9; Phil 2:13). That, in itself, is a staggering concept. God is not stoic, emotionless, apathetic, or detached from the happenings in His creation. He is intensely interested in man. He created the universe because He had something He wanted and He determined that He would get it, aka He has a will (Rev 4:11). Since, by His own desire and determination He wants something besides Himself, and since the attainment of that thing (man) is necessary to accomplishing of His purpose, God now has a NEED.
Man is the center of God's purpose and He needs man for the accomplishment of His purpose. God's need, according to His desire, is to dispense Himself as life with all His riches to His chosen people for His expression in humanity. The technical term the Bible uses for this thought is glory. God wants to be glorified, aka expressed, IN and THROUGH man (Eph 3:9-11; 2 Thes 1:10). On our side, for God's need to be met, we need to gain Him, just as Paul desired to (Phil 3:8). We gain God by coming to Him and taking Him in like at a feast. This sounds simple, but this involves ups and downs, failures that break us open, and new beginnings that revive us and put in us a greater desperation to gain Christ for God's satisfaction.
You don't want to miss this winter's reading! It has to potential to revolutionize the way you view God's purpose and will bring a deep appreciation for what God is doing in your life through failures, when it seems like God is doing nothing at all.
Here is the schedule and some tips on how to get the most out of this reading: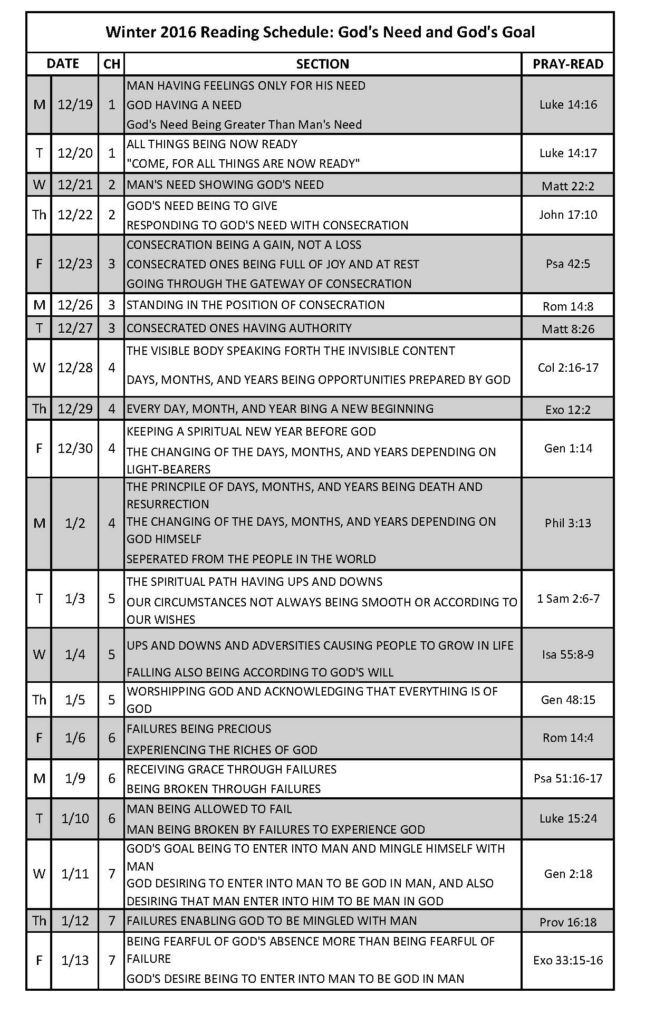 Download PDF Ministry Reading Schedule
Source: http://www.christianstudentsoncampus.com/ministry-reading-schedule-winter-2016/